DOWNLOAD ALL¶
Downloads all content (waypoints, tracks, and routes) from the connected GPS to the Data Table. Newer GPS models will prompt you with a popup window with a list of all of the GPX files on the connected GPS device. Select which content you want to download, or choose select all.
Each GPX file can contain one or many waypoints, tracks, and / or routes. DNRGPS cannot determine which of these each GPX file contains without loading it. Many of these have Date/Time stamps for names. They identify the date that information was collected. If you're not sure which file stores the data you need you can choose the select all button and download everything.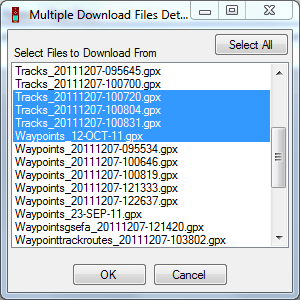 If you have a lot of content this can take a while. When the download is completed, the tables will be populated, and you will get a popup that says Download Complete.
Note: The Download All option clears the data table prior to download, so any content in the data table will be cleared whenever you run this tool. To avoid clearing all tables when downloading from a GPS, select Download from the Waypoint, Track, or Route menu.
See Also: